Complete Story

10/11/2019
030 Digital Disruption: Using Digital Landscape to Grow Your Sales
Presenter: Jamie Turner
Date: Tuesday, March 10, 2020

Time: 8:00-11:30 am

Level of Complexity: Foundational
Course Description: In this fun, engaging, action-oriented workshop, internationally recognized author, speaker, and CEO Jamie Turner will share news ways -- and some traditional ways -- that you can use marketing to target, nurture, and convert more of your prospects into customers. He will use case studies that highlight several businesses that have adapted to the changes and benefitted as a result.
Learning Objectives:
Learn insider tips and techniques on how to improve campaign results
Identify the key triggers that get people to buy products
Embrace new technologies like Facebook Messenger, Live Chat, and behavioral targeting are critical to your future success
Understand how to use MindMapping to persuade people in a one-to-one environment
Jamie is an internationally recognized author, speaker and network TV news contributor who has worked with The Coca-Cola Company, AT&T, Holiday Inn and other global brands.
Jamie Turner is an internationally recognized speaker, author, and CEO who is a recipient of the Socialnomics "Top Keynote Speaker" award (along with Tony Robbins, Ariana Huffington, and Richard Branson).
---
Bookstore
F. Barry Lawrence, Ph.D., Senthil Gunasekaran, Pradip Krishnadevarajan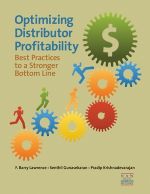 There are 47 best practices in Optimizing Distributor Profitability: Best Practices to a Stronger Bottom Line and all were developed from actual experiences of 84 real wholesale distribution firms across our industry. This groundbreaking research study is not academic modeling or theory; it is a powerful weapon for you to use to enhance your shareholder value.