Complete Story

12/09/2016
Old Dog, New Clicks: Online Industrial and B2B Marketing Know-How for the 21st Century
Bob DeStefano
Two big, related dynamics are changing the field of industrial and B2B marketing: It's an ever-younger crowd with a penchant for the wired and the wireless, and they don't enjoy phone sales calls. They're likely to Google you first, pop over to your website, then check out your social media accounts. How will they find you? What will they find when they do?

---
Bookstore
Pradip Krishnadevarajan, Senthil Gunasekaran, F. Barry Lawrence, Ph.D., Brijesh Rao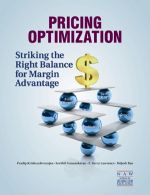 Forward-thinking wholesaler-distributors who strive for above-average returns in the "New Normal" by leveraging pricing optimization best practices that are rooted in sound analytics must read Pricing Optimization: Striking the Right Balance for Margin Advantage!