Complete Story

10/11/2019
005 How to Accelerate Your Competitive Advantage in Today's Unstable Markets
Presenter: Jim Pancero
Date: Sunday, March 8, 2020

Time: 8:00-11:30 am

Level of Complexity: Intermediate/Advanced
Course Description: This interactive course will explain how the four most disruptive shifts in selling today are impacting your sales team (and what you as their sales leader can do about it). You will learn the five best things you can do right now to stabilize your business in today's unstable markets. You will also learn how you can strengthen and improve your team's "Why buy" selling message. A detailed workbook/action guide will be provided to help you take these ideas back to share with your sales team that includes a ten-stepped outline you can use to lead your team to a stronger message of value and uniqueness.
Learning Objectives:
Learn how dramatic changes in selling and buying today are impacting your team (and what you can do about it)
Learn the tactic and strategies to increasing your competitive edge even in today's disruptive selling/buying environment
Learn how to strengthen and improve your team's selling message answering a customer asking "Why, based on all my alternatives, do I want to buy from you?"
Jim is a Dallas based business-to-business sales and sales leadership expert and Hall of Fame professional keynote speaker and trainer. Jim has the leading-edge solutions you need to increase your team's competitive advantage. A leading go-to sales and sales leadership strategist for over three decades, Jim has been influencing, guiding and inspiring sales teams in more than 80 different industries to increase their sales, market share and profitability.
---
Bookstore
Skip Weisman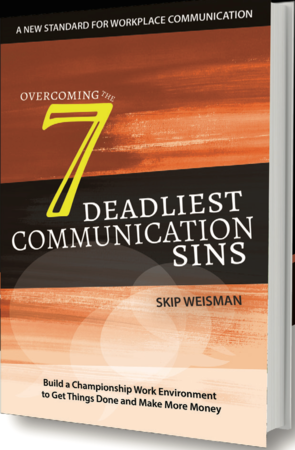 Communication is the cause of every success, failure and frustration. Don't you think it's vital to get it right? Just because we've been communicating since we were in our mother's wombs you think you know how to communicate.
This book will show you where you're getting it right and where you're missing the mark. You will learn the seven most common and most damaging communication mistakes that lead to endless workplace drama, toxic work environments, low accountability, poor attitudes and poor performance individually and organizationally. These communication mistakes are at the core of your employee retention issues, if you are struggling with them in this low unemployment economy.