Complete Story

10/11/2019
018 Emotional Intelligence for Sales Success
Presenter: Colleen Stanley
Date: Monday, March 9, 2020

Time: 8:00-11:30 am

Level of Complexity: intermediate
Course Description: Emotionally intelligent salespeople are great at building relationships, handling pressure and bouncing back from setbacks and failures. When meeting with challenging prospects and customers, emotions often start running the sales meeting rather than effective selling and influence skills. Participants will learn key emotional intelligence skills that produce hard sales results. Skills such as such as emotion management, self-awareness, empathy, assertiveness, delayed gratification and stress management.
Learning Objectives:
Learn the neuroscience of emotional intelligence and avoid fight or flight responses during challenging sales conversations
Discover how to sell to the real buyer in any selling scenario, the prospect's 'reptilian brain'
Discover how underdeveloped emotional intelligence skills affective a salesperson's ability to consistently execute the right selling behaviors
Improve a salesperson's ability to read the emotional temperature of prospects and customers. Stop missing the meeting after the meeting.
Develop soft skills that build resiliency, accountability and sustainable sales results.
Colleen is president and founder of SalesLeadership a sales development firm. She is the author of Emotional Intelligence For Sales Success, now published in six languages. Her newest book, Emotional Intelligence For Sales Leadership, will be published in May, 2020, by Harper Collins.
---
Bookstore
Paul Reilly, Tom Reilly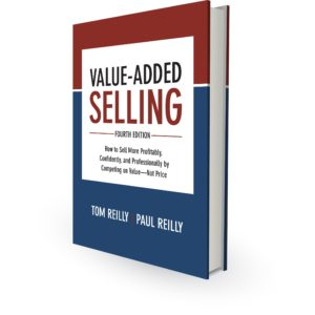 "Value" is about more than just price. Good salespeople understand that and know what differentiates their products from that of competitors. In the first edition of Value-Added Selling, industry guru Tom Reilly tackled the most common problem that salespeople faced: overcoming customer concerns about pricing. That book went on to become the global, go-to guide for value-added selling. Since then, the industry–and the world―has changed dramatically. Developments in technology, including price comparison apps and search engines, now provide consumers with more information than ever, making it much harder to value and sell your product. Additionally, millennials, who now comprise the largest population in the workforce, prefer to do things differently than prior generations. This updated fourth edition of Reilly's classic guide examines the latest trends and technology that have impacted the market and provides expert advice on leveraging current technology to increase sales.


Value-Added Selling, 4th Edition offers proven strategies and tactics to help you not only close more sales but improve repeat business without compromising on price. You'll learn how to anticipate the needs, wants, and concerns of buyers from the very beginning of the sales process. The book shows how to compete more profitably by selling value, not price.