Complete Story

10/11/2019
039 Hiring Salespeople
Presenter: Joseph Ellers
Date: Tuesday, March 10, 2020

Time: 1:00-4:30 pm

Level of Complexity: Intermediate
Course Description: One of the most difficult objectives for any organization is to identify, hire and integrate salespeople. This course helps organizations to use a process-based approach that begins with a clear understanding of the kind of salesperson needed and ends with a set of actions designed to increase the chances of success through a structured on-boarding process.
Learning Objectives:
Understanding that each sales hire might be different
Creating formal processes for hiring and on-boarding
Pre-work for annual business planning for the manager
Framework for critical decision-making and resource allocation
Joe began his sales career in 1978 and sales management responsibilities in 1984. In his career, he has worked with manufacturers, reps, and distribution. His company, Palmetto Associates, has worked with over 1700 customers throughout the world. He has worked with many of the major trade associations and is a long-time faculty member with UID.
---
Bookstore
Jaynie L Smith
Think you know your company's competitive advantage? Think again.
Why should I do business with you … and not your competitor?
Whether you are a retailer, manufacturer, distributor, or service provider – if you cannot effectively answer this question, you may be missing the opportunity to maximize your potential customer base, client retention and margins.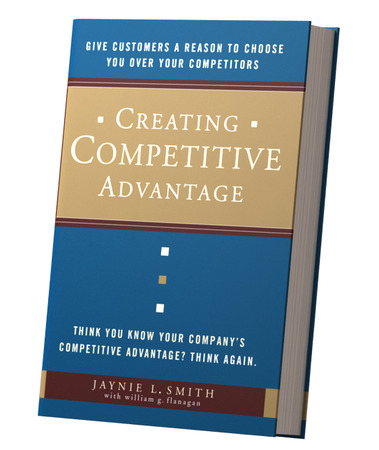 The five fatal flaws of most companies:
• They don't have a competitive advantage but think they do.
• They have a competitive advantage but don't know what it is – so they lower prices instead.
• They know what their competitive advantage is but neglect to consistently and effectively tell clients and prospects.
• They mistake "strengths" for competitive advantages.
• They don't concentrate on competitive advantages when making strategic and operational decisions.
Creating Competitive Advantage reveals that identifying and touting competitive advantages – based on your customer's perspective – is statistically proven to help your company's marketing and sales teams close more deals, at higher margins, and stay miles ahead of the competition.

Buy Now