Complete Story

10/11/2019
006 The Successful Manager's Communication Toolkit (Full)
Presenter: Linda Larsen
Date: Sunday, March 8, 2020

Time: 8:00-11:30 am

Level of Complexity: Intermediate
Course Description: This fast-paced content-rich workshop focuses on how to build meaningful, mutually beneficial relationships by the continued improvement of how you communicate - verbally, non-verbally, via email, telephone and, of course, face-to-face. This holistic approach will help you build a team comprised of individuals who are equipped with the mindset and the skillset they need in order to be highly productive, quickly solve problems and provide stellar customer service. You will leave with tools to help you be a more effective listener, ask for a behavior change, give constructive feedback, and communicate more effectively.
Learning Objectives:
Examine the elements of effective listening, model the process, and identify the common barriers to effective listening
Evaluate various "exit lines" that allow you to postpone a confrontation until emotions are in check.
Contrast effective and ineffective ways to give constructive feedback to someone
Distinguish between the three types of learning styles
Linda is one of only 232 people world- wide to be inducted into the Speaker Hall of Fame®, joining such notables as General Colin Powell, President Ronald Reagan and Brian Tracy. She has been a featured presenter for over 1,000 conferences and meetings worldwide for groups such as Jaguar Cars, the Kuwait Women's Leadership Summit and McDonalds.
---
Bookstore
Jaynie L Smith
Think you know your company's competitive advantage? Think again.
Why should I do business with you … and not your competitor?
Whether you are a retailer, manufacturer, distributor, or service provider – if you cannot effectively answer this question, you may be missing the opportunity to maximize your potential customer base, client retention and margins.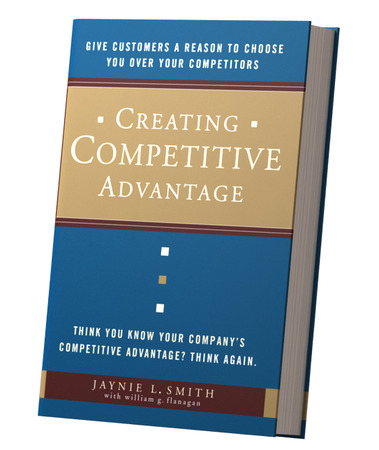 The five fatal flaws of most companies:
• They don't have a competitive advantage but think they do.
• They have a competitive advantage but don't know what it is – so they lower prices instead.
• They know what their competitive advantage is but neglect to consistently and effectively tell clients and prospects.
• They mistake "strengths" for competitive advantages.
• They don't concentrate on competitive advantages when making strategic and operational decisions.
Creating Competitive Advantage reveals that identifying and touting competitive advantages – based on your customer's perspective – is statistically proven to help your company's marketing and sales teams close more deals, at higher margins, and stay miles ahead of the competition.

Buy Now