Complete Story

10/11/2019
019 Project Management Skills and Strategies
Presenter: Julia Kalish, Ph.D.
Date: Monday, March 9, 2020

Time: 8:00-11:30 am

Level of Complexity: Foundational
Course Description: The truth is that virtually all projects have common pitfalls, challenges, and opportunities whether they are multimillion-dollar multi-year undertakings or small venture that can be completed in one hour with no designated resources. A proven method of bringing a project in on time, under budget, and according to specifications is universal across a variety of fields, industries, and organizations. Discover how successful project managers think, plan, and deliver results in this interactive workshop designed to allow participants to learn, practice, and perform all aspects of a successful project from beginning to end.
Learning Objectives:
Develop your strategy for project management moving forward
Learn to identify where they may be a pitfall and how to work through them
Julia has been a continuing lecturer Notre Dame's Mendoza College of Business, Purdue University's Krannert School of Management, Purdue's Polytech Institute, and Loyola University Chicago. She was the recipient of the Best Professor on Campus Reader Choice Award at Purdue, Best Undergraduate Teacher at Krannert, and an Honorary Purdue Old Master. She is a Project Management Professional, Lean Six Sigma Blackbelt, Army veteran, speaker, writer, thought leader, sleep advocate, defender of the Oxford comma, and a "NO" enthusiast.
---
Bookstore
Mark Dancer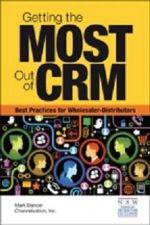 Experienced wholesaler-distributors say CRM (Customer Relationship Management) is fast becoming a standard practice. More than that, it's becoming an essential tool for managing a high-performing distribution sales organization.