Complete Story

10/11/2019
047 Mastering the 3 Levels of Championship Leadership Communication
Presenter: Skip Weisman
Date: Wednesday, March 11, 2020

Time: 8:00-11:30 am

Level of Complexity: Foundational
Course Description: This highly interactive and engaging course explores the three levels of communication that organizational managers and leaders must master to exert positive influence on those they lead and manage to get high-performance results. This course will explore the specific skills and components at each of the three levels and provide experiential activities to begin building new skills in each level.
Learning Objectives:
Uncover the 3 different levels of communication that organizational leaders must learn to master to be more effective
Know how each of the three levels of communication interact, influence, and build on the other
Learn specific communication tips, tools, and techniques at each level to begin building championship leadership communication habits
Skip's sixteen seasons as CEO for five professional baseball teams provide him with the ideal background to be a business coach that helps small businesses create championship companies. From 1986-2001 Skip served as CEO for five different professional baseball teams affiliated with the Boston Red Sox, Cincinnati Reds, New York Mets, Seattle Mariners, Tampa Bay Rays, and Texas Rangers.
---
Bookstore
Mary Kelly, PhD, Commander, US Navy (ret)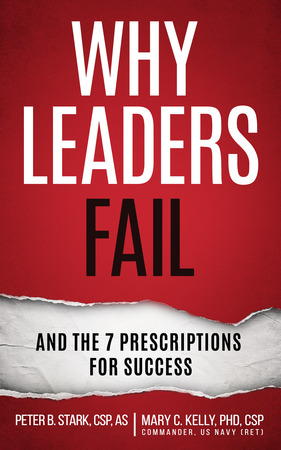 Why do so many leaders fail, and what do the best do differently?
Whether you're in your first year of leadership or your 20th, Why Leaders Fail is a must read for aspiring leaders who know they need to be constantly learning, improving, and developing their leadership skills.
Gain insight into behaviors that may be sabotaging the loyalty of your direct reports.
Identify the barriers undermining your team's ability to get things done.
Understand why your top talent may not be performing up to their potential.
Gain tools to help you align team goals with the organizational mission.
Gain awareness of how you are perceived by your direct reports, peers, and supervisors.
49 actionable prescriptions for success.
Facilitate an environment where employees can grow and develop to their full potential.
Free access to a personalized leadership assessment to identify your leadership strengths and weaknesses.