Complete Story

10/11/2019
015 Distribution in a Post Amazon World
Presenter: J. Michael Marks
Date: Monday, March 9, 2020

Time: 8:00-11:30 am

Level of Complexity: Advanced
Course Description: There will be digital versions of relationship and trust, there will be digital versions of order fulfillment and service, and there will be digital versions of capital structures and cash, and perhaps even Bitcoin or its replacement. There will even be digital versions of companies. Yet, we are still analog beings living in an ever-increasing digital world. A manufacturer can eliminate a distributor in their channel, but they can't eliminate the work and services they provide. This course explores the forces of changes at work and explores several scenarios that may occur as a result.
Learning Objectives:
Lead a discussion within their own firm on how the forces of change may play out in their market to support competitive positioning
Use the insight from these emerging trends to guide future investments increasing or strengthening their value propositions for customers
Understand their own business model that underlies any strategy and recognize structural weaknesses that exist in the old school distribution models
Michael is a dynamic speaker, popular business author, and both an NAW Research Fellow and the Managing Partner of the Indian River Consulting Group. The boutique firm has worked with distributors of all sizes up to those over $40 billion in revenue per year. Mike sits on the boards of several distributors and provides arbitration and expert witness services for manufacturers and distributors in contract disputes.
---
Bookstore
Jaynie L Smith
Research Proves Customers Value More than Just Price
Relevant Selling, the sequel to best-seller, Creating Competitive Advantage, challenges the all-too-familiar price issue. Many companies lament that price pressure has destroyed their margins – but when customers are surveyed in dou­ble-blind studies, we learn that more than 90% of the time, price is not the most important buying factor. This book will teach you how to uncover what is relevant to your market and stop caving in on price. Without relevance, successful negotiation is seriously hindered. More than Just Price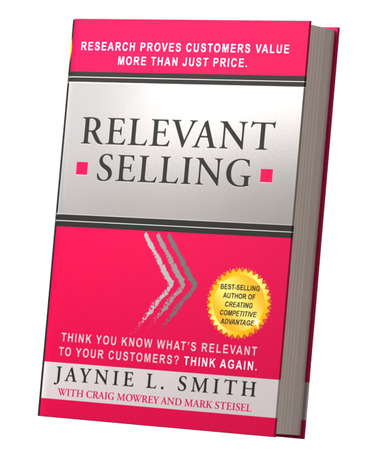 Differentiators are not competitive advantages if they are not relevant to the customer.
Companies must not only sell value, they must also sell what is specifically of value to the customer.
The majority of marketing and advertising efforts rely too heavily on creativity instead of relevance.
Relevant Selling shows you the importance of learning what is most relevant to your customers, your prospects and your different target markets, noting they almost always require tailored messaging to be relevant. You will learn how to obtain and use that valuable information.
Each chapter is loaded with actual case studies and research that demonstrates how companies achieve remarkable results when they sell what is relevant. Many companies are leaving profits on the table each day simply because they lack the research described in this book.

Buy Now