Complete Story

10/11/2019
002 Powered Productivity: Tech Tools to Get Stuff Done
Presenter: Beth Ziesenis
Date: Sunday, March 8, 2020

Time: 8:00-11:30 am

Level of Complexity: Foundational
Course Description:
Join Your Nerdy Best Friend back again with the newest tech tools to increase productivity, efficiency and awesomeness for work and home. Beth Z's course includes new ideas for task automation, team collaboration, personal productivity and much more. No matter what your technology comfort level, you'll leave with real steps you can take to start changing the way you work right away.
Learning Objectives:
Evaluate low-cost, high-value apps and tech tools that you can start using right away
Compare great tech tips and app ideas from your colleagues
Investigate new ideas to increase efficiency, improve relationships and get things done


Beth Z is your New Nerdy Best Friend…Author. Speaker. Nerd.
Since her first Motorola RAZR flip phone, Beth Z has made a verb out of the word "nerd."
---
Bookstore
F. Barry Lawrence, Ph.D., Pradip Krishnadevarajan, Senthil Gunasekaran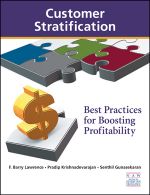 Best-in-class distributors categorize customers based on various factors, but customer stratification has long been an unexplored area for most distribution companies. Not anymore. At last, that gap is filled by this first-of-its-kind research study, Customer Stratification: Best Practices for Boosting Profitability.